18-Wheeler Truck Accident
Truck Accident Litigation Process
Why 18-wheeler Crashes Happen
Professional truck drivers required to have specialized training in safety and follow specific regulations establishing the minimum safe conduct for both drivers and their companies. Unfortunately, drivers and their companies cut corners and frequently put profit ahead of safety endangering the motoring public.
Sometimes truck drivers can be driving their 18-wheeler after they must stop operating the vehicle. Hours of Service violations are ordinary and lead to tired and fatigued driving.
The trucking company's negligence causes other 18-wheeler truck accidents in failing to keep the tractor-trailer in proper operating condition, by failing to maintain such essential safety equipment as brakes, tires or other components putting everyone at risk.
With the shortage of truck drivers, many companies are hiring drivers not qualified to operate an 80,000-pound vehicle which leads to truck crashes.
Some tractor-trailer collisions happen merely because the driver ignores the rules of the road that apply to everyone or violates the Federal Motor Carrier Safety Regulations.
Whether the driver was impaired, fell asleep at the wheel, following closely, speeding or not paying attention to the cars around them, contacting a leading 18-wheeler accident attorney quickly after an incident is a smart choice.
Truck Accident Litigation Process
Investigation: Soon after the insurance company for the trucking company and the driver learn of the accident, they will send teams to the scene of the crash to interview witnesses and gather evidence to defend a personal injury, or wrongful death claim they suspect will be coming against them.
The insurance company is in the business to make profits, and they do that by paying as little as a can on any individual claim. Further, trucking regulations require higher limit commercial policies for each big rig.
Persons involved in an accident with a semi-truck should not give a written or recorded statement to the adjusters investigating the claim until after they could have discussed the matter with the best Houston truck accident attorney they can find.
Negotiation: Studies have conclusively shown that insurance companies do not deal with individual victim's same way they do when those people have attorneys. Taking advantage of folks who are unrepresented happens every day to the detriment of the public. Frequently, after a severe truck wreck, an insurance company will contact the family seeking an early settlement hoping to pay pennies on the dollar.
A common trick is to say something like "we accept responsibility," and they injured assume that the insurance company means they will pay reasonable compensation. That is not the case. There is a reason insurance companies do not want to hire a skilled attorney. Making the right choice of attorney for an 18-wheeler accident is vitally important.
Lawsuit: Serious injury or wrongful death 18-wheeler accident cases usually end up in litigation to obtain full and fair compensation. It seems a trial setting frequently provides the incentive for many insurers to reevaluate the damages of the injured.
Make sure the attorney you choose has the commercial vehicle lawsuit experience necessary to maximize the value of your case!
Medical Treatment: The most important thing a person can do after a collision with a commercial vehicle is to seek medical care and follow doctor's orders to the letter.
Do not resolve your injury claim against the trucking company before you have a clear handle on the extent of your injuries.
Follow Up Testing And Care: Most 18-wheeler accident victims who survive, start out in the emergency room and are discharged as some point with instructions to get follow-up treatment. Getting proper care in both testing and also needed treatment should be a victim's first priority.
source:texas
If you are undocumented and need Legal Help for DWI or DUI, Without a License, Drugs' Possession or Domestic Violence. You can contact Attorney Frank Yeverino (713) 545-2520, who specializes in Undocumented Criminal Defense of the, he will take personally the call to assist you directly and quickly. The Fy Law Firm helps you.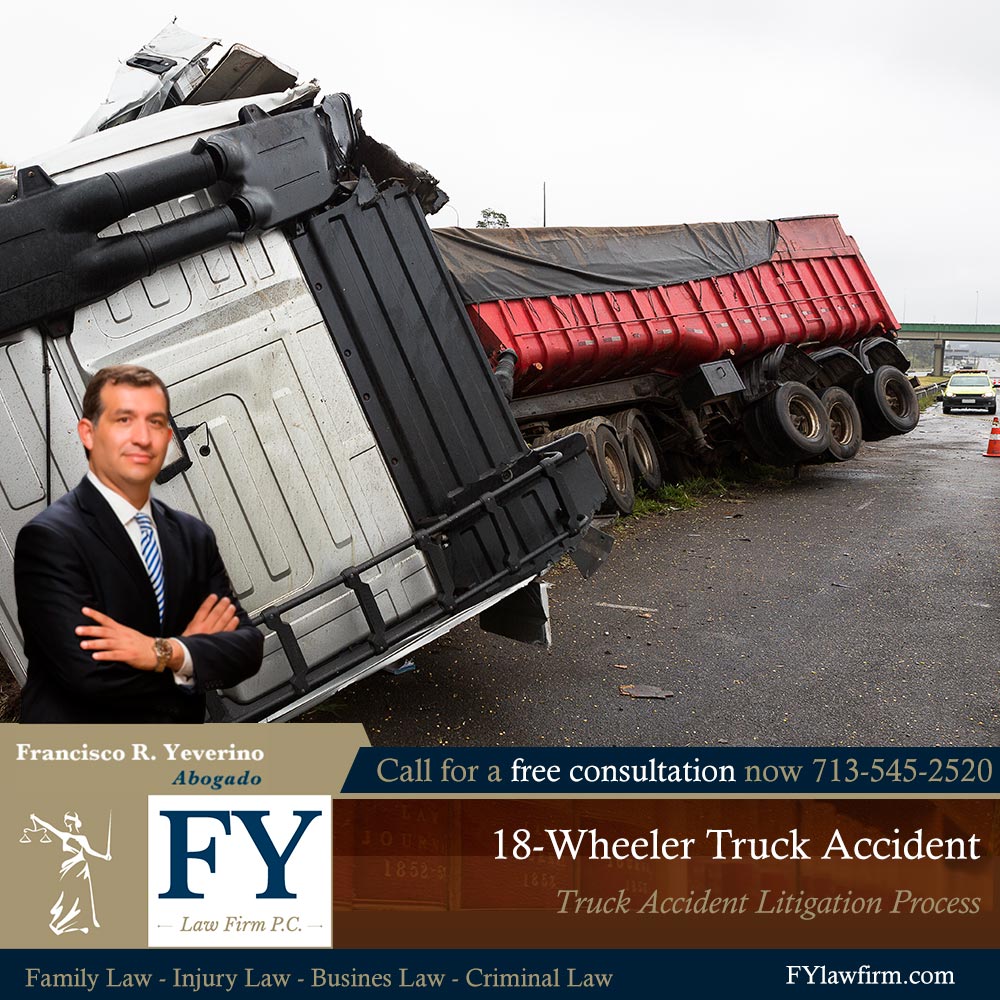 18-Wheeler Truck Accident
Drunk Driving, Driving Under the Influence DWI, Driving Under the Influence DUI, Accidents, Personal Injury Compensation, Claim for Personal Injury, Personal Injuries, Possession of Drugs, Criminal, Drug Related Offenses, Drug traffic, Possession of Marijuana, Domestic violence, False Charges of Violence, Arrest for Domestic Violence, Family Cases, Divorces, Legal Custody of Children, Child Support, Alimony, Driving without a Driver's License, Driving without a License, Arrest for Driving without a License, Drive with Expired License, Locate my husband with the ID, Federal Crimes, Undocumented, Criminal Defense for the Undocumented, Criminal Defense for Immigrants, Defense for Immigrants, The Fy Law Firm