Criminal Defense Attorney
Illegal Weapons in Texas
Texas has some of the most liberal gun laws in the nation including an open carry law. However, there are illegal weapons in the Lone Star State.
If you are found in possession of these weapons, you could face jail time.
Obviously, if you brandish a weapon that you are allowed to have by law, such as a firearm, in a threatening or an illegal manner, you will face weapons charges.
The instruments and weapons that will land you in trouble with the law if you own or carry them are set out in Chapter 46 of the Texas Penal Code.
The following weapons are prohibited under the laws of Texas. You cannot knowingly possess, make, transport, repair or sell any of these weapons.
What Are Illegal Weapons in Texas?
An explosive weapon
A machine gun
A short-barrel gun or other firearm
A firearm silencer
Knuckles such as brass knuckles
A device that dispenses chemicals
Armor piercing ammunition
A zip gun
A tire deflation device such as a device that will put spikes in tires.
Penalties for Possessing Illegal Weapons
The penalties for possessing these illegal weapons depend on the weapon in question.
If you are convicted of possessing an explosive weapon, a machine gun, a firearm silencer, a zip gun, armor piercing bullets or a chemical dispensing device, you face a third-degree felony punishable by two to 10 years in jail and a fine of up to $10,000.
Possession of a tire deflating device is a state jail felony carrying a range of six months to two years in a state jail and a fine of up to $10,000.
Possession of brass knuckles is less serious. Conviction constitutes a Class A misdemeanor punishable with up to a year in jail and a fine of up to $4,000.
Why Knives Can Be Illegal Weapons if they Are Carried
Texas has one of the most liberal open carry laws in the country related to guns. However, there's not the same freedom to carry around knives or clubs.
Texas does not have a law allowing the open carry of knives, reported the Houston Chronicle.
If you carry around a large knife with a blade over 5½ inches, you can face a Class A misdemeanor, punishable by up to a year in jail. You can face a fine up to $4,000. If you violate the law in a bar or a liquor store you can face a third-degree felony, carrying a possible penalty of two to 10 years in prison and a fine of up to $10,000.
Weapons offenses can be confusing in Texas. While it's self-evident that explosive will land you in jail, there does seem to be a double standard with firearms compared to knives. Legislators tried unsuccessfully to change the law.
source: peekandtoland

If you are undocumented and need Legal Help for DWI or DUI, Without a License, Drugs' Possession or Domestic Violence. You can contact Attorney Frank Yeverino (713) 545-2520, who specializes in Undocumented Criminal Defense of the, he will take personally the call to assist you directly and quickly. The Fy Law Firm helps you.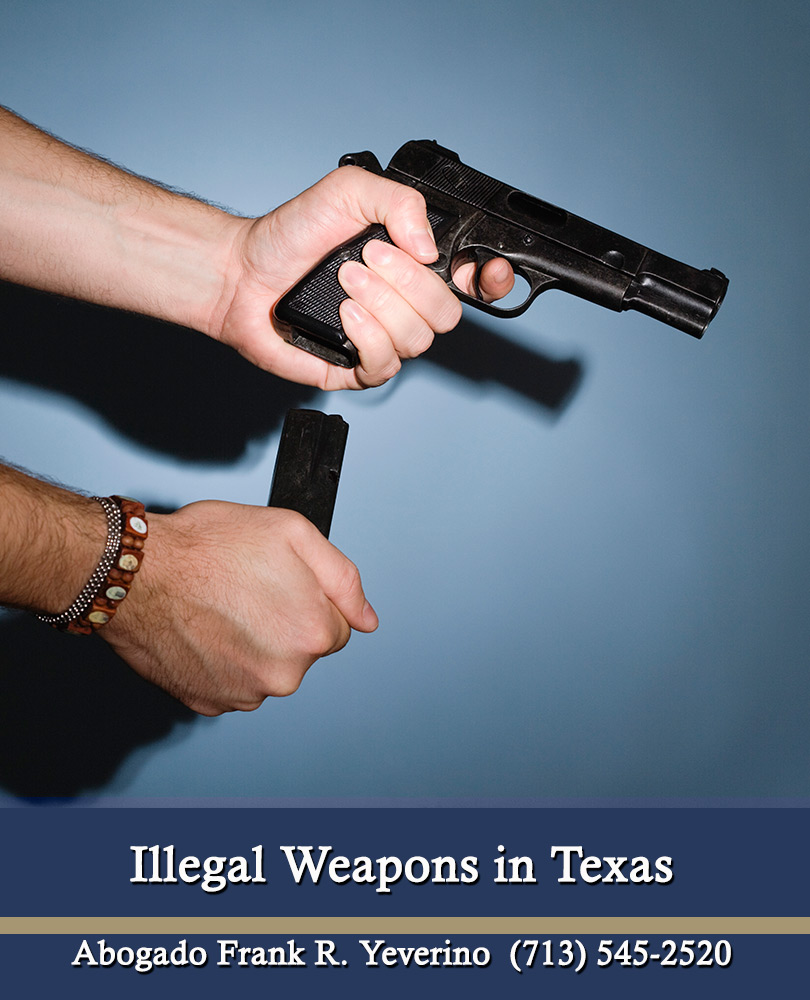 Criminal Defense Attorney
Drunk Driving, Driving Under the Influence DWI, Driving Under the Influence DUI, Accidents, Personal Injury Compensation, Claim for Personal Injury, Personal Injuries, Possession of Drugs, Criminal, Drug Related Offenses, Drug traffic, Possession of Marijuana, Domestic violence, False Charges of Violence, Arrest for Domestic Violence, Family Cases, Divorces, Legal Custody of Children, Child Support, Alimony, Driving without a Driver's License, Driving without a License, Arrest for Driving without a License, Drive with Expired License, Locate my husband with the ID, Federal Crimes, Undocumented, Criminal Defense for the Undocumented, Criminal Defense for Immigrants, Defense for Immigrants, The Fy Law Firm